New Guitars

The following are quick photographs of guitars (or parts of a guitar) not pictured in the photo gallery. Either I do not have time to take detailed pictures or this is the middle of summer when using photo lights for several hours would be unbearable. Rather than not having any pictures at all, these pictures were taken with a flash and may have reflections. Feel free to click on the small pictures to see larger pictures.
Ryan
Nightingale
(Nov. 17, 2005)
R. Taylor
Style 1
(Sept. 21, 2006)
Ryan
Cathedral 12
(Oct. 26, 2007)
Martin
J12-15
(Dec. 14, 2007)
Martin
000-42MEC
(Jan. 21, 2008)
Schenk
FE 12
(May 28, 2008)
Beneteau
Concert Standard
(June 28, 2008)
Schenk
FE 6
(May 15, 2009)
Schenk
RD
(March 13, 2010)
Martin
D-15
(April 16, 2010)
Ryan
Paradiso
(May 7, 2010)
Ryan
Abbey
(Oct. 7, 2011)
Schenk
Ophirio RD
(Dec. 17, 2011)
Schenk
Ophirio RD 12
(Aug. 30, 2012)
Preproduction Ryans
On April 25, 2008, I had the opportunity to play a most outstanding guitar built by Kevin Ryan that he calls "The Dragonfly." I was so moved by the guitar I decided to set aside a sister set of Quilted Mahogany from "The Tree." I also set aside a set of Sinker Redwood. Other specifications of the guitar have not been decided, but it may be a Nightingale.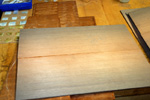 Follow the links below for more info on ...

My Healdsburg 2009 Memories My Winter 2004 NAMM Show Memories My TaylorStock 2002 Memories My Winter 2002 NAMM Show Memories Guitars For Sale
Tribute to the Luthier
Guitar Gear & Accessories
Previously Loved Guitars
All Trademarks Belong to Their Respective Owners


Back Home
Web-Counterindicates
visits since January 96.