On The Ryan Paradiso

Last summer, I was excited to find out that the "new Mission" I had been waiting for would soon be built. I had chosen the Redwood soundboard in December 2004 and a set of Koa a couple years later. However, Kevin had recently received a new shipment of Koa, so I chose a new set from that. During that visit on September 11, I also chose Pink Paua Heart for the rosette and a new 12th fret inlay from a fretboard Kevin was working on.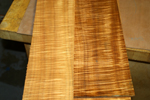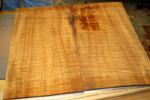 On February 12, I put Ryan Guitars into my GPS and also saw my sides and binding bent ... no cutaway. :)
On April 9, my Paradiso was ready for the spray booth.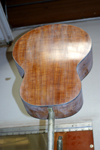 The Ebony neck and fretboard were also coming along nicely, inlaid in pink.
On May 7, my Paradiso was finished! Also finished was Kevin's 700th guitar, a Brazilian Rosewood/Engelmann Spruce Paradiso. What a guitar! I wished I could have brought it home, too. It has a gorgeous deep and rich voice, sounding larger than it is.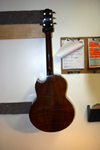 My Paradiso is home! I have not had much time to play it yet, but it has a sweet warm voice. I think it is going to be hard to put it down.


Guitar Gallery Up Close
All Trademarks Belong to Their Respective Owners


Back Home
Web-Counter indicates
visits since January 96.