On The Ryan Abbey

At the beginning of this year, I started talking to Kevin about a new guitar. It started out as a Cathedral, Mahogany back and sides and Adirondack Spruce top. However, as I was enraptured by the Paradiso he built last year, I started thinking perhaps a smaller guitar, perhaps another Paradiso or an Abbey might be nice. Over time, the Abbey became the dominant thought, with Brazilian Rosewood back and sides and Swiss Spruce top.
In the spring, Kevin let me know that he was working on a new idea that he was going to unveil at the Healdsburg Guitar Festival. On May 6, I had a chance to see the Diamante theme on both an Abbey and a Nightingale. I loved it and decided to incorporate it into my new guitar.

On July 15, the box was finished and ready to go into finish.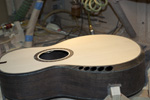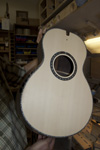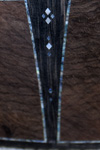 On October 7, the Diamante Abbey was ready to come home. It may be small in size, but it is full in richness and tone. Already it is becoming a favorite, a guitar that will be cherished for years to come.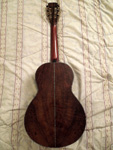 Guitar Gallery Up Close
All Trademarks Belong to Their Respective Owners


Back Home
Web-Counter indicates
visits since January 96.