On The R. Taylor Style 1

This is the raw wood chosen on August 11, 2006 for a Brazilian Rosewood/Adirondack Spruce Style 1 R. Taylor. Thanks to Keith Greenwood of R. Taylor for choosing the soundboard and to Joe for allowing me to look through Taylor's beautiful Brazilian Rosewood. Bindings will be ebony. It will have a flat top and asymmetric X-bracing (pictured on the right).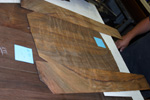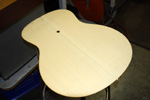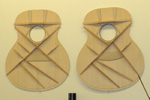 Here is the back after the the wood was joined for production. Notice the absence of a backstrip. Photos were taken by Kevin Kinnear of Buffalo Brothers on August 28, 2006. Thanks Kevin!
On September 1, 2006, the box was put together. Thank you, John DiMaggio of R. Taylor for the inside look.

On September 21, 2006, I got the call that the guitar was finished. Here are some snapshots of the guitar. A review of the sound will follow; however, initial thoughts are that it has a very deep bass, glittering trebles, and is LOUD!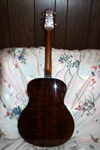 Guitar Gallery Up Close
All Trademarks Belong to Their Respective Owners


Back Home
Web-Counter indicates
visits since January 96.