On The Schenk Nashville Flattpicker

On Thursday, March 11, I received an e-mail from Rod, informing me that my next guitar finished. It was an enormous surprise since I had not even ordered a guitar! Attached to the e-mail were the following pictures: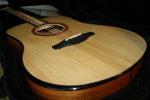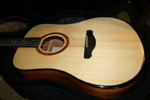 Well, Rod knew me too well, so the following day it was on its way. I received it Saturday morning, went off to do some errands, and then came home to get acquainted with it. It has a very clear voice, something not always associated with dreadnoughts, and a solid bass.
It is a wonderful addition to my Schenk collection. Appointments are different, as well as the soundboard, which is Adirondack Spruce, but it is another beautiful instrument built by Rod.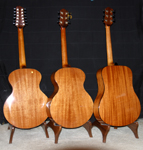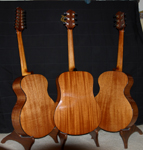 Guitar Gallery Up Close
All Trademarks Belong to Their Respective Owners


Back Home
Web-Counter indicates
visits since January 96.