On The Ryan Nightingale Grand Soloist

Received in November 2005, this Brazilian Rosewood/European Spruce guitar became a quick favorite and remains the guitar I'm most drawn to play. A very balanced guitar, one that can be played very aggressively, yet responds to a light touch as well.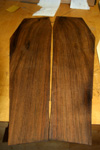 Guitar Gallery Up Close
All Trademarks Belong to Their Respective Owners


Back Home
Web-Counter indicates
visits since January 96.