On The Schenk FE Grand Fingerstyle 12-String

I met Rod Schenk last year at NAMM and was quite impressed by his guitars. This year he brought a gorgeous Mahogany/Engelmann Spruce 12-String that prompted me to order a Mahogany 12-String. It will have Indian Rosewood binding. On February 12, 2008, Rod sent me this beautiful picture of the Carpathian Spruce top. He has already inlayed the Rosewood rosette on the top.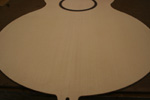 On May 24, 2008, pieces of wood became a guitar! I am still awaiting delivery; however, I was sent a few pictures to keep me company until it arrives.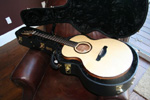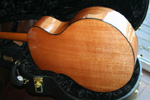 May 28, 2008 was a morning of anticipation and worry. Luckily, the FedEx truck arrived around 10:30 in the morning, so the wait was not that long. The guitar arrived in perfect condition. He has a beautiful warm and rich voice. Even though he has not been a guitar for even a week, he speaks with authority and grace. I have not had very many Mahogany guitars ... but if they had sung as this one does, I would have had many more.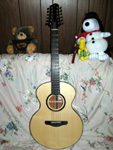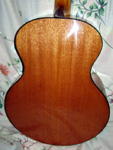 Guitar Gallery Up Close
All Trademarks Belong to Their Respective Owners


Back Home
Web-Counter indicates
visits since January 96.