Healdsburg Guitar Festival
The following pages are a pictorial journal of my experience at Healdsburg 2011 in basic sequential order, though I did return to several tables during the weekend.
Ever since I played a Claxton at Luthier's Collection several years ago, I have been wanting to play another. Ed graciously allowed me to play his personal guitar fitted with Silk and Steel strings, very responsive and melodic.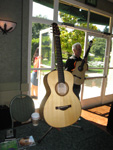 It was a pleasure to meet John and play his guitars. I was planning on going back to his table and play them a bit longer, but I ran out of time.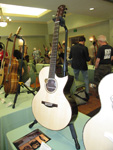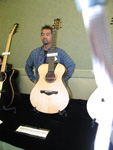 I had heard many good things about Michael's guitars, and this weekend I had the opportunity to experience them myself. One of my favorite guitars at the show was his 100th guitar (center picture).